Discover the Village

Prà di Riva combines simplicity and elegance
In respect of ancient traditions
The layout and construction solutions of the buildings have been specially designed in such way as to reproduce the "protected group" effect of the typical Walser village, without any interference due to the proximity of the apartments. In this way, residents can socialize when and if they wish, or stay alone, with full respect for their privacy. The little squares, fountains, washroom, and bread ovens were placed where the inhabitants gathered together during holidays and celebrations, but also a place of contact in everyday life. In the garden, the aim was to recreate the sober and essential atmosphere that characterized the Walser hamlets. We have chosen indigenous species such as larches, fruit trees, rhododendrons and small blackberries and raspberries shrubs.
An Original Project: Walser soul and Hi-Tech spirit.
No cars, no traffic, no emissions: only stone paved paths that connect the village huts to each other, to the fountains, bread oven, service areas hidden in the basement, a surprising SPA of over 600 square meters and the common garden with seasonal vegetables and aromatic herbs available to the owners. The stunning and wild mountain massif of Monte Rosa all around. The design of the buildings refers to the typical Walser structure, which is the most evocative of the mountain architectural forms, with a prevalent use of wood over the stone and large outdoor arcades, protected by the characteristic perch in larch. As a result of centuries of tried and tested work adapted to local conditions, the old houses were leaning against each other to maintain internal paths in the snowy winters and leave room for summer crops.
An ambitious project

Bertini, interpreter of the Walser tradition.
The Prà di Riva village was created by Bertini enterprise, born in Valsesia like many of its employees who still live in ancient Walser huts.
Nobody could, therefore, better interpret the spirit of the ancient people who settled in this valley over a thousand years ago, transferring it to the beautiful buildings of the new exclusive Village, paying close attention to the workmanship of the material and a maniacal care in the details. This is why, as required by ancient construction techniques, there are no screws or metal nails. The wooden components are joined together, using only wooden nails when necessary. The stones have been recovered and split or hammered by hand, to create structures perfectly integrated with the original houses of the ancient hamlets of Valsesia.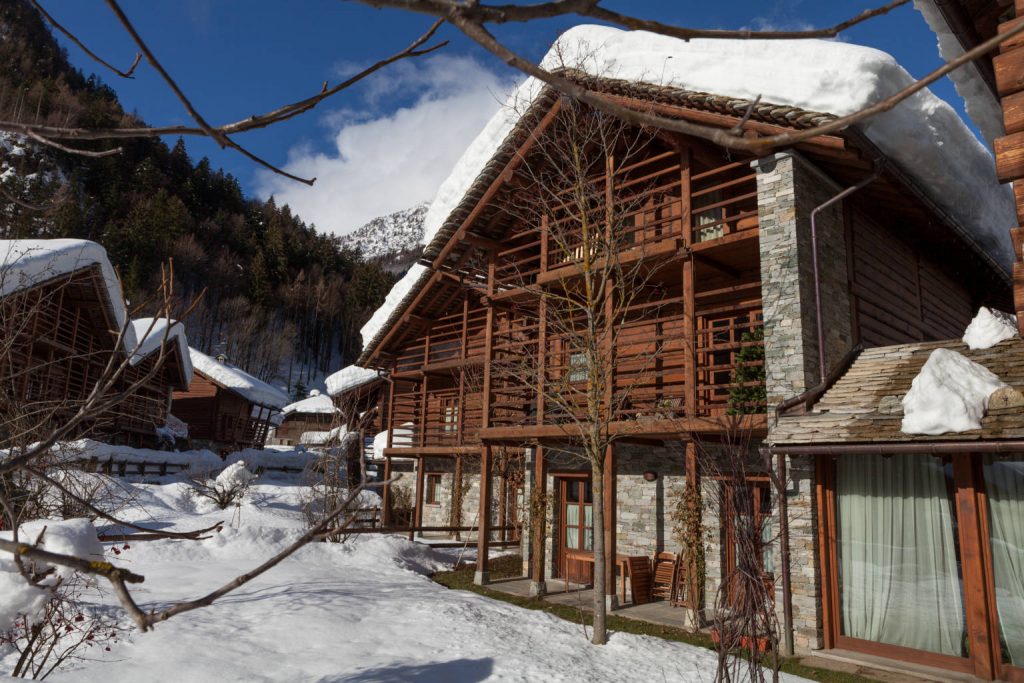 Why buy a chalet in
Prà di Riva?
In the village on the slopes of Monte Rosa, there are exclusive mountain huts designed in accordance with the ancient Walser tradition!
You can choose between different solutions, with or without the garden, with or without the attic.
Fine finishes tailored to your needs.